The Team
Physiotherapists
Carlo Careri
Carlo qualified as a Physiotherapist in Spain in 2012 and previous to that, he got a degree in Sport Science and Exercise in Italy in 2009. He specialised in musculoskeletal and sports injuries. After working in Spain in the Academy of a professional Basketball Club, Carlo moved to the UK at the end of 2013.

He also works part-time with the Academy of Norwich City Football Club providing physiotherapy assessment on the pitch during training and games, and treating the injured players if needed.

Carlo has a broad range of special interests from spinal problems, sports injuries, occupational health, and rehabilitation. He is also trained in Acupuncture and is recognised by Acupuncture Association of Chartered Physiotherapists and is DMA Clinical Pilates trained, delivering bespoke rehabilitation programmes in line with latest clinical evidence.

In his spare time, Carlo enjoys playing football, travelling, going to the gym and experiencing new cultures.
Joao Jorge
Joao qualified as a Physiotherapist in 2014 and started working for back in Motion in 2015. He now specialises in all Musculoskeletal Physiotherapy and Neurological conditions. As an enthusiastic, motivated professional, he keeps up to date with the latest scientific publications and in 2016 completed the DMA Clinical Pilates training which allows Joao to now deliver our highly specialist Rehabilitation classes and programmes and hopes to be fully acupuncture trained later this year. Joao completed his Kinesio taping qualification in 2016 and uses tape application in a variety of sporting conditions.

Joao enjoys all Physiotherapy work and takes a particular interest in lower limb and running injuries. Outside of work, Joao enjoys cycling, travelling and playing basketball.
Beth Carpenter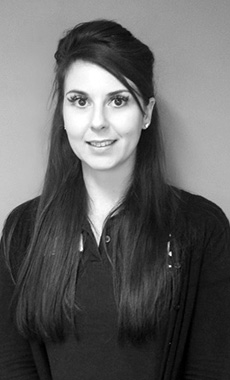 Beth started her career as a Physiotherapy assistant before graduating from the University of Essex in 2009 with BSc.(hons) Physiotherapy. She started work in Southend, before moving to Dartford as a Senior Physiotherapist. Beth joined Back In Motion in January 2014, after relocating from Essex. Beth's special interests are paediatrics (children), hands and hydrotherapy. She is also fully trained in Clinical Pilates, Acupuncture and Kinesiology taping. Beth's clinical time at Back in Motion is at the Thetford clinic seeing a wide variety of patients in the clinic and at their homes and pilates classes. She is keen and motivated in her career and loves the variety and challenges in her job. Outside of work she keeps herself busy with running, horse riding and competition level canine agility.
Mihail Alashki
Mihail graduated with a Bachelor's Degree in Physiotherapy at the Medical University of Pleven, Bulgaria in 2002. After several years of working as a Physiotherapist, he then undertook his Masters Degree in Physiotherapy at the National Sports Academy "Vasil Levski" in Sofia in 2011. His interest to work as physiotherapist came from his passion for manual and sport medicine, and he developed a passion for musculoskeletal dysfunctions which he now specialises in, having written his thesis for his Masters Degree on Cervicogenic Headaches. After working as a physiotherapist for many years, he believes that in order for his patients to achieve the best possible outcome, it is vital to keep things fresh and enjoyable in both his treatment sessions and pilates classes. His ethos is that with a bit of determination and enthusiasm, anything is possible. In his spare time he enjoys listening to music and reading fantasy books. He also attends regular yoga classes.
Gemma Morris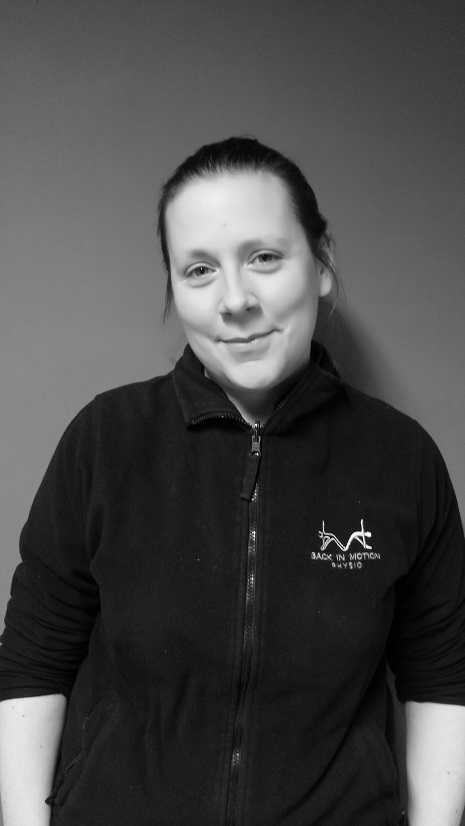 Gemma completed a BSc in medical sciences at Birmingham University followed by a Masters in Physiotherapy at The University of East Anglia.

She worked for Back in Motion for almost 2 years before taking on a franchise of the business in 2009 and now runs several clinics in the North Norfolk area.

Gemma is an experienced senior MSK Physiotherapist having qualified in DMA Clinical Pilates and Acupuncture with the AACP and uses both in the treatment of patients and her classes and mentors her team in other areas of speciality such as Headaches, Domicillary care and neurological conditions.

Gemma is busy running a business and managing a family and son but when time allows her second love is the stage and has taken roles in various performances at the Maddermarket theatre.
Vania Tereso
Vania completed her Physiotherapy degree at the Piaget Institute in Portugal, in 2014. She had a opportunity to do the internship in different hospitals and services in Salamanca, during the Erasmus Program.
Vania is fascinated by the rehabilitation process in all areas of physiotherapy, specifically in orthopaedics, paediatric and neurological specialities and recently trained in hydrotherapy (water based exercise).
Vania moved to UK in 2015 with the goal to continue to grow as a professional and to develop more knowledge and training in the various areas of physiotherapy . Vania completed the DMA Clinical Pilates modules and hopes to be acupuncture trained this year. Vania excels particularly in delivering domicillary care, neurological rehabilitation and other long term conditions and spinal pain.
In her spare time, she enjoys swimming, running, travelling, cooking and reading.
Tom Collier
Tom completed a Sport and Exercise Science BSc (Hons) degree in 2013 before working as a certified personal trainer and level 4 sports massage therapist. He then completed a 2-year Master's degree in Physiotherapy at the University of East Anglia in 2017. Whilst completing his MSc, Tom was able to work clinically in several areas of Physiotherapy including; Orthopaedics, Stroke Rehabilitation, Paediatrics including Cystic Fibrosis and elite sports injuries at Norwich City football club. In particular, Tom has a well-developed clinical understanding and application of exercise prescription to facilitate rehabilitation.
Tom has a great interest in strength and conditioning, sports injuries (in particular knee and ankle pathologies) and clinical research derived from his academic studies and previous experience as a personal trainer. To date, Tom is in the process of publishing his MSc academic research article looking at factors influencing the abstract to full-text publication rates in the British Hip society and the British Association for Surgery of the Knee in order to facilitate evidence-based practice.
In his spare time, Tom enjoys watching and playing most sports and is a keen gym user.
Rehab Therapists
Andrew Sidell
Andrew completed a Sport and Exercise Science BSc (Hons) degree in 2015, joining Back in Motion in 2016 after previously working as a fitness instructor/personal trainer. Andrew is trained to deliver Back in Motion's personal training and Pilates classes and has developed skills to assist with Domicillary rehabilitation within the team.
He enjoys a variety of sports having represented Norfolk in Badminton as well as competing in American football and Rugby Union at University. Andrew has a particular interest in strength and conditioning and biomechanics, a passion utilised in his Pilates classes and one to one sessions as well as his own training.
Amy Sewell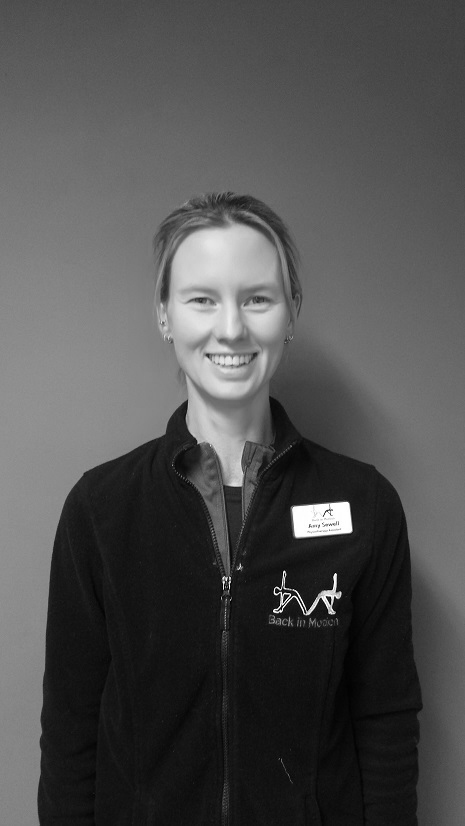 Amy is a qualified Physiotherapy Assistant. She has worked at Back in Motion's fully equipped Pilates gym for 5 years and holds a BSc Exercise Physiology and level 3 Personal Training certificate. She takes one-to-one sessions and group classes using a range of equipment including Reformer, Trapeze table and Pilates ball as well as matwork.
Joe Mckenna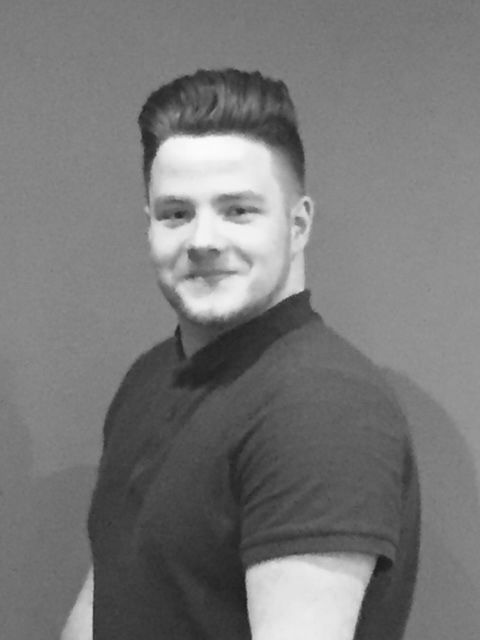 Joe completed a Sports Therapy BSc (Hons) degree in 2016, joining Back in Motion in 2016 working as a sports and rehab therapist. Alongside his role at Back in Motion Joe works for Wymondham RFC as a Graduate Sports Therapist and has a great deal of experience working in a sporting environment. He competes in a number of different sports including Rugby, Cricket and American Football. Joe has a keen interest in sport specific rehabilitation and biomechanics and uses this in his rehab sessions. 
Shantelle Melton
Shantelle recently completed a Sports Rehabilitation Bsc (Hons) degree in 2017 at the University of Hull. From moving back to Wymondham, she joined back in motion in 2017 as a Massage and Rehab Therapist. She has worked and volunteered with a variety of high level sport clubs such as Leicester Tigers, Scunthorpe United and Rotherham Titans. She has also volunteered at injury clinics and hospitals throughout University and is keen to strive at Back in Motion. Shantelle has a particular interest in sports injuries and pathologies. She is fully trained in KinesioTape level 1 and 2 and Immediate Care In Sport, yet is keen to expand her knowledge by obtaining several other qualifications. In her spare time, Shantelle enjoys playing a variety of sports, traveling, walking her dog, going to the gym and spending time with friends and family. 
Admin
Sue Sutton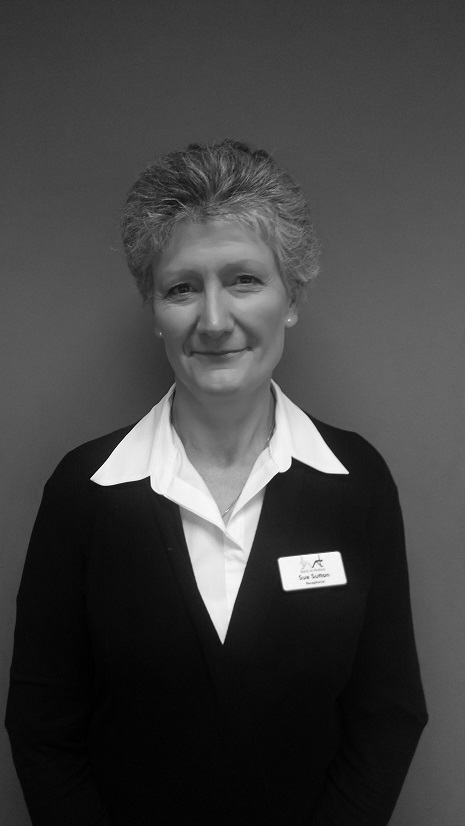 Sue is an experienced member of the reception team. She has been with Back in Motion since 2005 and currently works in Eaton & Wymondham clinics. Over the last 10 years she has taken on a number of adminsitrative and clinic roles but has chosen to be part of the reception team to help with our patients and Pilates members. As a part-time employee she has time to enjoy a range of activities including tennis, swimming and Pilates plus walking her energetic black Labrador "Bramble".
Pip Sessions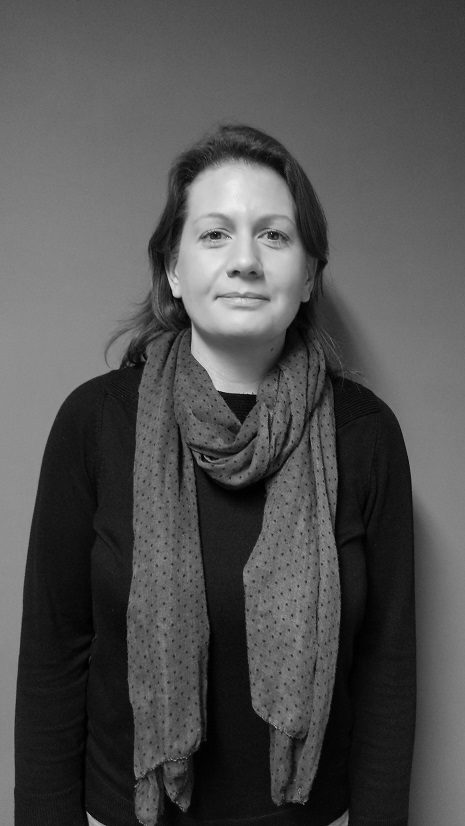 Pip is a receptionist at our Aylsham Clinic and has worked for Back in Motion North Norfolk for two years now. She enjoys singing and the theatre. Pip previously worked as a primary school teacher and she now also works as a drama tutor for Mad Red Theatre School at the Maddermarket Theatre.
Jo Parker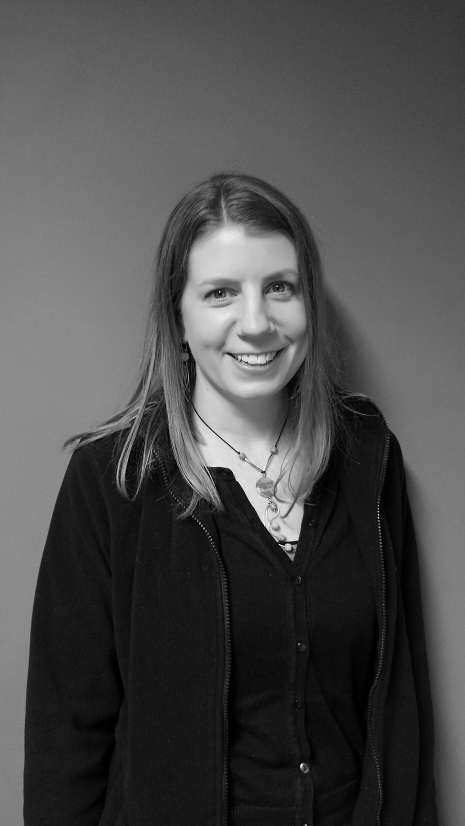 Jo has worked for Back in Motion for over 4 years now and is the head receptionist and administrator for the North Norfolk clinics. She is also a local actress and is often treading the boards around Norfolk & Suffolk.
Max Clarke
Max joined the Back in Motion Team in 2016, working as a Part Time Receptionist. Before Back in Motion, she spent 6 years working as part of the reception team at a local Veterinary Clinic, so she is fully up to speed with all that reception work entails! Max is very creative and enjoys baking, cooking, art, architecture and anything quirky or odd. She loves animals and has 2 and 3/4 cats (one has 3 legs). Outside of work, Max enjoys helping to care for animals such as donkeys and horses.
Management Team
Clare Carrick BSc (Hons), MCSP, AACP HPC PH54266, CSP 60420, AACP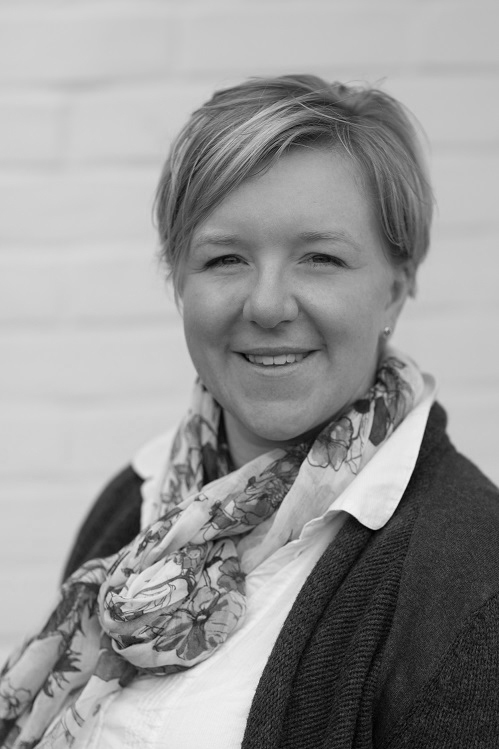 After qualifying in 1998, Clare worked at the Norfolk and Norwich hospital gaining a foundation of work experience. After 2 years she widened her horizons by working in another hospital, Kettering General and in a private sports physiotherapy practice in Northampton in the evenings to gain valuable experience and money to follow her dream of working abroad in New Zealand.
In 2001, Clare left the UK to travel for a few months across America, South Pacific Islands, Australia and onto New Zealand.
In New Zealand work undertaken was varied from private physiotherapy in busy Auckland and Wellington city practices. Clare worked alongside the lead physiotherapist for Super 12 Wellington Hurricanes who played international level Rugby across Australia and New Zealand giving her significant professional Rugby experience treating elite athletes. Clare also ran a busy orthopaedic physiotherapy service as a senior lead clinician for Wellington hospital, which was the specialist centre for the island, which rounded off her experience of working for both private and public sectors of health in New Zealand. Clare returned to the UK in late 2003 with an increased passion for Physiotherapy and a vision for how exceptional Physiotherapy services are delivered. This ambition and desire to continue to travel led Clare to do one thing and that was to set up her own clinic Back in Motion.
Back in Motion now has 7 sites across Norfolk which are managed directly and through a franchise model. Clare still remains as 'hands on' as possible but primarily leads a team of therapists to deliver exceptional Physiotherapy.
Jon Wilton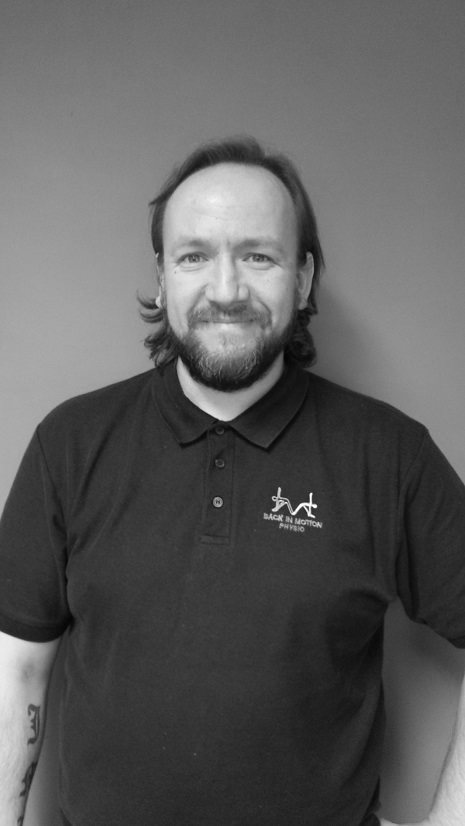 Jon previously worked in the Civil Service before joining Back in Motion in 2009 to help run the business with wife Clare Carrick. He works as Company Secretary and his main responsibility is the accounts. Outside of work, Jon is kept busy looking after his two little girls and in his spare time he enjoys playing music.
Lydia Perllman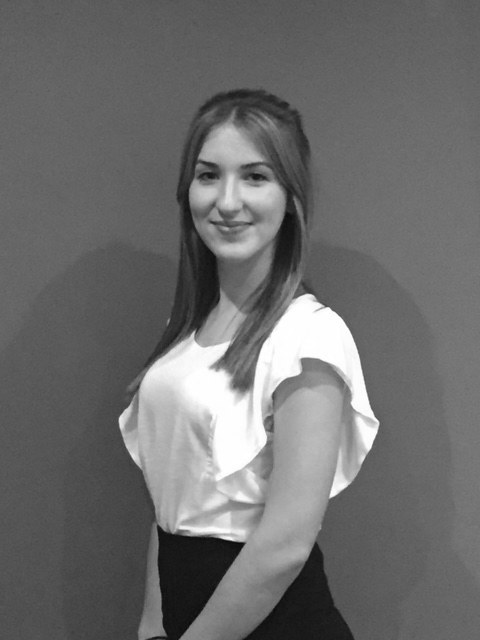 Lydia first joined Back in Motion in 2012 as a part-time Receptionist. With determination to strive within the company, she progressed her way up to full-time Assistant Practice Manger in 2016, taking on the responsibility of ensuring the smooth and effective running of both Wymondham and Diss Clinics.
In Summer 2016, Lydia moved away from Back in Motion to dip her toe in the Recruitment Industry, where she expanded her knowledge of HR and recruiting new employees. As 2017 rolled in, Lydia was excited to announce she would be returning to Back in Motion. She now works as Lead Administrator for the Company and is very much looking forward to progressing her career once again within a workplace that she has always admired.
Outside of work, Lydia keeps herself busy by focussing on the renovation project of her first home with her Partner, James. She also enjoys spending time with family and friends and can be partial to the odd holiday or two!
Call your nearest practice for more information.