Our Services - Massage Therapy
Back in Motion provides a range of expert Norwich massage services. Massage therapy delivered by our fully qualified massage therapist has a host of health and wellbeing benefits including:
Relaxation
Reduces Muscle Tension & Spasms
Mobilises the Joints
Improves blood Circulation
Balances and Increases Energy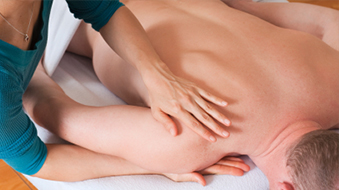 We offer the following massage services, according to your personal requirements:
Sports Massage
Sports massage is a deep, rigorous soft tissue massage designed to help active individuals and sports people relieve deep muscle tension and stiffness. This is our firmest massage and suitable for anyone who prefers a deep tissue massage for stress, muscle aches or performance.
The benefits of sports massage include:
Reduced stress and tension
Preparing the body for optimal performance
Speeding up recovery and muscular repair after training
To reduce risk of injury
Relaxation Massage
Our relaxation massage is a more gentle form of massage that is still aimed to reduce stress and tension but with less pressure applied during the massage. This will also be accompanied by the burning of essential oils and relaxing music to ensure you leave feeling more relaxed than when you arrived.
The benefits of a relaxation massage are:
Relieving chronic muscular tension and pain, particularly in the back, shoulder and neck
Decreasing muscle spasm
Relieving stiffness
Relaxation
The relief of stress
Pregnancy Massage
This is a light, gentle massage designed to promote health and wellbeing during pregnancy. Therapeutic massage can help with:
Headaches can be relieved by massage focusing on the head, neck and shoulders.
Muscle tension created by carrying the extra weight of a baby can be relieved by encouraging blood flow to the afflicted areas
Fatigue, backaches, leg cramps and swelling/oedema can all be relieved through massage.
The ordinary aches and pains of pregnancy are countered by the release of serotonin, your body's natural anti-pain chemical, which is stimulated by massage.
To begin your recovery plan, please contact your nearest practice for masage in Norwich and Norfolk and we will provide you with further information and advice.
If you have any questions please get in touch by calling 01953 604 331 or emailing us on info@back-in-motion.co.uk
To begin your treatment plan, please call your nearest practice for bookings or further information.