Physiotherapy
Physiotherapy is a clinical treatment which assists people in recovering from an injury, condition or illness in regaining movement, mobility and wellbeing through manual therapy and prescribed exercises.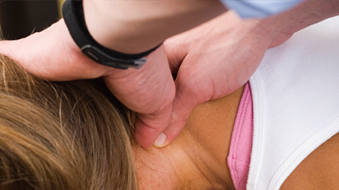 Physiotherapy places the individual at the centre of their own recovery programme and works to aid and enhance recovery and rehabilitation by improving the individual's overall fitness and lifestyle. We can diagnose and treat any injuries, past or present, that may be preventing you from moving to your best ability.
What can I expect at my first consultation?
Your first consultation is an opportunity to meet you, assess your general health, lifestyle routines and current level of fitness and overall wellbeing. We will discuss the results that you would like to achieve from your treatment. We then carry out a physical assessment which involves looking at your posture when sitting, standing and walking. This allows us to understand your current range of mobility, musculoskeletal alignment, and how you move.
Your physiotherapist will discuss an immediate action plan and outline an ongoing treatment program. Your physiotherapist will be able to explain your condition, and the projected timescale for recovery and progress moving forward. Your physiotherapist will provide you with a variety of home exercise and pain management strategies to take with you, so you are able to manage your own condition effectively between treatment sessions.
What happens next?
Following your initial assessment, our reception team will book further appointments as recommended by your physiotherapist. The appointments will take place at our clinics, and will usually involve some form of manual treatment, whereby the physiotherapist will work on any affected areas to strengthen, move and manipulate the body to regain mobility. A variety of techniques could be used depending upon the individual and their bespoke needs, including manual therapy and acupuncture. At Back in Motion Physio Norwich & Norfolk based clinics, all of our treatments are evidence-based with a proven record of success.
If you have any questions please get in touch by calling 01953 604 331 or emailing us on info@back-in-motion.co.uk
To begin your recovery with our Norfolk Physiotherapy Team, please call your nearest practice for further bookings or futher information.
Ante/Post-natal Services
Pregnancy is a very special time but can cause health and mobility related issues which are caused by the changes that occur in our bodies during pregnancy. Our team are expert at treating related discomfort and mobility issues that may occur during pregnancy.
The birth of a baby is a time of great joy, but it can also be a very tiring time as our bodies learn to cope with new physical changes and the demands of a new born. Back in Motion understands the demands of this special time and we have devised an expert programme of ante and post-natal treatments to treat the conditions that may develop during and after pregnancy.
The common types of related conditions we treat include:
Hip Pain
Back Pain
Carpel Tunnel
Sciatica
Symphysis pubis dysfunction
Stress incontinence
Physical and emotional stresses of pregnancy and labour
Weakness in pelvic floor muscle
How can Back in Motion help?
Our therapists are expertly trained to treat and assess the musculoskeletal changes that pregnancy brings about and use a range of treatments to restore function and movement and manage any discomfort or pain.
We know how important gentle exercise can be for both physical and mental wellbeing, and we provide a range of exercise groups tailored for during pregnancy and postpartum. Aside from the excellent physical health benefits, these classes provide a chance for women to socialize and meet other expectant or new mums in their local community.
Our instructors are specially trained in women's health and understand the physical changes and sensitivities that occur during and after pregnancy. Our classes are small and intimate, and you will receive support, advice and education which will prepare you for your new arrival.
Call your nearest practice for more information.
Workplace Physiotherapy
The most common causes of absence from work are back pain and stress-related illnesses, both of which can be prevented, treated and managed using Physiotherapy.
A healthy workforce is widely acknowledged to be a highly productive one, and Back in Motion can help optimize performance in your company and workplace. We can help you protect your employees and enhance the functional capability of your workforce.
Back in Motion provides comprehensive occupational health services to the corporate, industrial and public sectors, working with a broad range of different businesses and organizations.
Our occupational health services include:
Workplace assessments and on-site visits
Ergonomic assessments of work places and work stations
Management of employees on long-term sick leave
Development of 'return to work' programmes to help with the transition from sick leave to full-time work
Delivery of education, training and assessment particular to your business
To discuss the corporate services available from Back in Motion please email our head office Lead Physiotherapist at info@back-in-motion.co.uk