Our Conditions - Sports injuries, strains and sprains
Most of us at some point will suffer from an injury of some sort either as a result of playing sport, doing exercise or due to a fall or accident.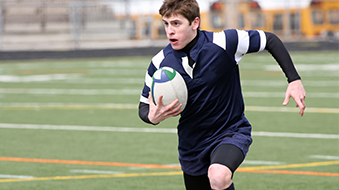 Sports Injuries
Keeping fit and taking regular exercise is very beneficial but accidents unfortunately do happen when we play sport, train or simply at an exercise class. Some injuries are classed as minor such as cuts and bruises but sometimes an accident can result in a sprain or strain and may need treatment to restore strength and mobility.
What are Sports injuries?
Essentially, any injury sustained while taking part in sport-related physical activity is termed a sports injury and most often will result in pain, swelling and restricted movement of the affected limb. Accidents can harm our muscles, ligaments, tendons and joints and areas most susceptible are hips, elbows, wrists, knees and ankles. Sports injuries are commonly caused by not warming up properly, overtraining, poor technique and posture while moving or simply having a fall or colliding with someone.
What are sprains and strains?
These don't have to occur during sport but can be the result of a fall, an accident at work or at home or simply a collision while on the move. Areas most usually affected by strains and sprains are knees, the neck, ankles, wrists and thumbs. A sprain can be very careful when it occurs and can result in immobility of the affected area. Other symptoms are swelling, bruising and tenderness.
How can Back in Motion help me with a sports injury, sprains and strains?
Physiotherapists have had a close relationship with the sporting world for years with both professionals and amateur sports people recognising the benefits of physiotherapy in helping maintain strength, movement and overall wellbeing and fitness.
Our therapists are fully trained to recognise the exact nature of your injury and what it means for your mobility and recovery if the injury is serious. We employ a variety of techniques to aid your recovery and we have physiotherapists with expert knowledge of particular sports and their related injuries.
How can I help myself when taking part in sports?
Working with your physiotherapist, you will learn useful exercises for warming up and cooling down after physical activity which can so often be overlooked. Try the following when exercising or playing sport:
always use wear the correct footwear, appropriate to your chosen sport.
Use the best quality equipment and learn how to use it safely
Don't overdo it - it is always advisable to make steady progress
Exercise regularly rather than in sudden bursts
If you have any questions please get in touch by calling 01953 604 331 or emailing us on info@back-in-motion.co.uk
To begin your treatment plan, please call your nearest practice for bookings or further information.