About Back In Motion | The Team
Clinicians
Jonathan Mason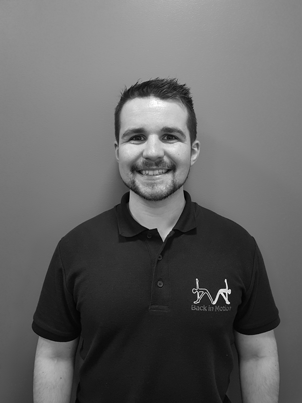 Jonathan qualified as a Physiotherapist with a Master's degree from the University of East Anglia. Prior to this, he worked with Back In Motion as a Sports Massage Therapist, and as a physiotherapy assistant in the NHS for a number of years – working predominantly with inpatients and assisting them towards a safe level of fitness to be discharged home.
Jonathan has a keen interest in all aspects of physiotherapy, health and fitness, which stems from both his BSc degree in Sports and Exercise Science, with honours, from the University of Essex and his work in the fitness industry as a fitness instructor.
Trained in Performance Matrix, Jonathan's main areas of interest are rehabilitation of the shoulder, hip and spine and generally the area of injury prevention.
He intends on making rehabilitation and physical activity accessible for all through a combination of manual therapy and exercise. He holds particular interests in the hip and knee joints and is qualified in Acupuncture.
Outside of work, Jonathan is a lover of all sports and plays cricket throughout the summer. He is also partial to a mud-run or two and if not at work can often be found in the gym!
Becky Fox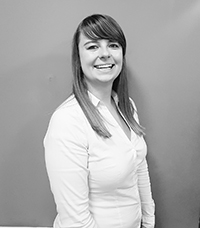 Becky is a fully qualified Level 4 Sports Therapist and Massage Therapist, completing her qualification in June 2013. After joining Back in Motion in October 2017, Becky is now a full time member of the rehabilitation team, treating patients in both our Diss and Wymondham Clinics. Trained in Clinical Pilates Becky leads classes and personal 1 to 1 sessions at Back in Motion to help our clients achieve optimal movement. Becky enjoys keeping fit walking her dog and also enjoys Zumba, going to the gym and spending time with friends and family.
Amy Sewell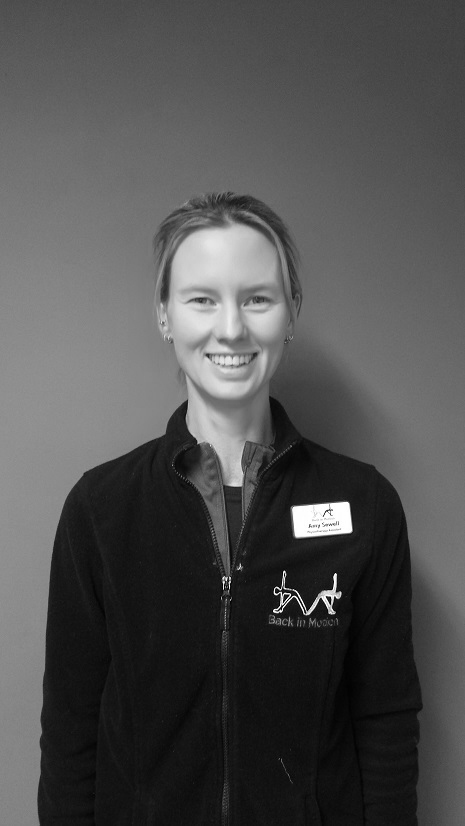 Amy leads the specialised Rehabilitation team at Back in Motion and offers a wealth of experience in rehabilitation of complex cases and rehabilitation of sports injures, with a special interest in running. Having worked for Back in Motion since 2007, in our fully equipped gym she leads on the quality and deliverance of care within the rehabilitation specialists. Graduating with a Bachelors of Science degree in Exercise Physiology and Level 3 Personal Training certificate Amy takes one-to-one sessions, group Pilates & Wellness classes.
Outside of work Amy enjoys to run and competes in events as well as keeping active with her 2 young boys playing football with them.
Ashleigh Marrable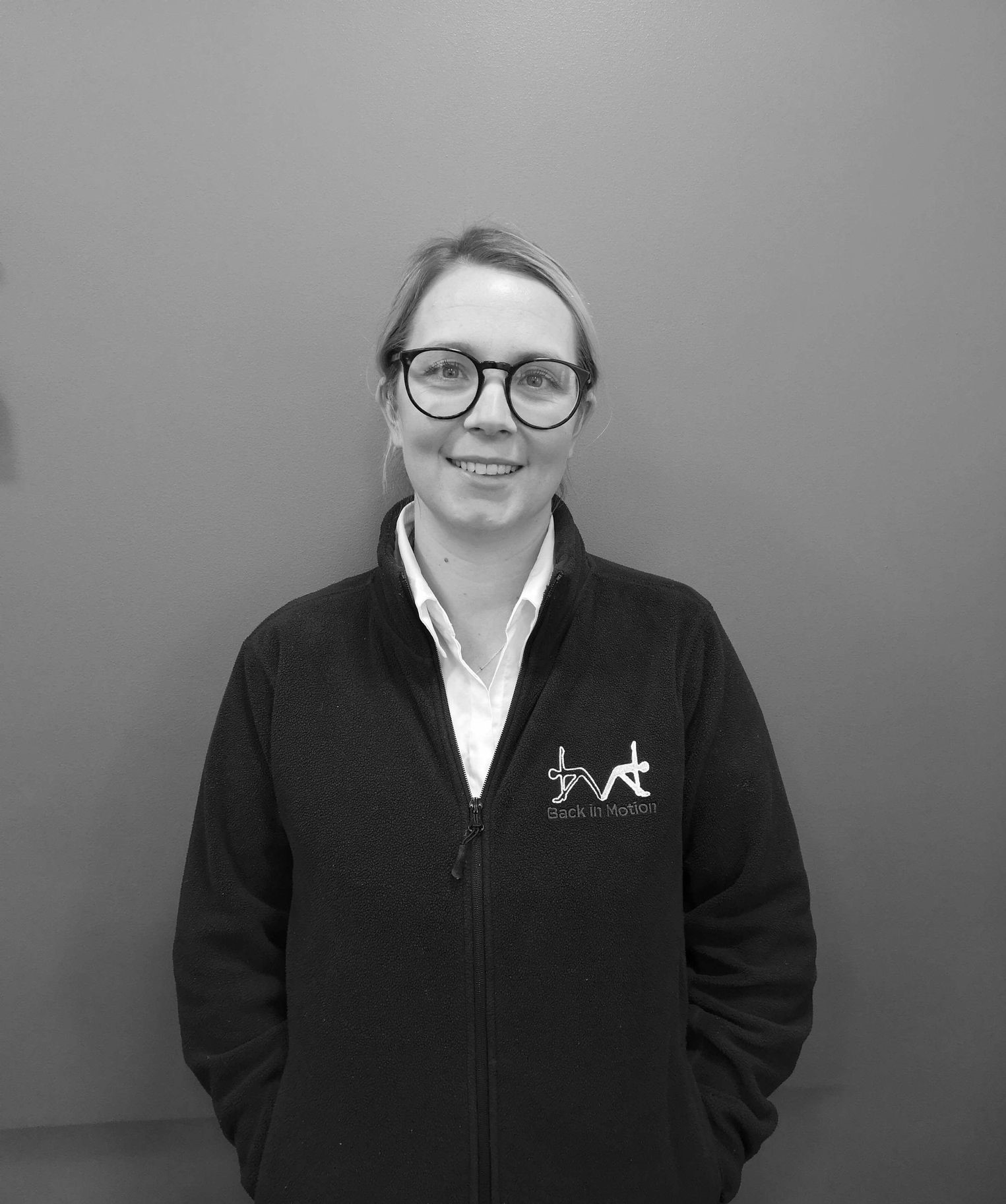 Ashleigh qualified in Massage and Beauty Therapy in 2004, and worked her way up to management level within well known Spa settings. Responsible for training and quality control in therapeutic techniques and service improvement in recent years, Ashleigh's skills are essential to our team at Back in Motion.
Ashleigh balances her clinical work alongside management of the team.
Outside of work she enjoys family time with her two children and loves to take her holidays abroad with them!
Vaishnavi Chavan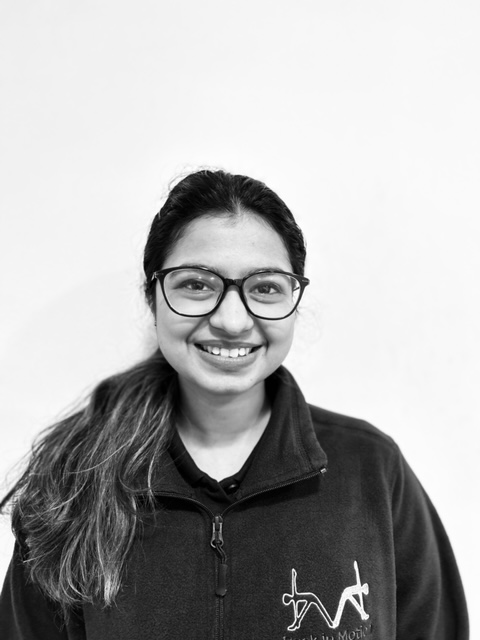 Vaishnavi graduated from Sheffield Hallam University in MSc Specialist Physiotherapy Practice. She gained a vast experience in MSK, Neuro and cardio conditions during her Bachelors in India as well as in sports injuries during her Masters in the UK.
Vaishnavi has a particular interest in low back pain as well as other MSK injuries. She is a very calm in nature and is able to speak three languages. celebrates Diwali and enjoys Christmas the most.
Before joining the Back in Motion, she worked as a MSK Physiotherapist in Sheffield Physiotherapy Clinic. She spends her leisure time exploring new regions, exercising and doing yoga.
Simran Mansharamani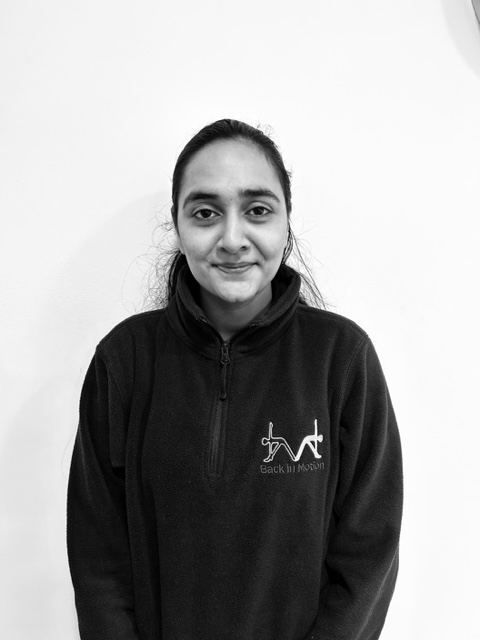 Simran completed her Bachelor's degree in Physiotherapy and then completed her Master's degree in Advancing Physiotherapy Practice from Coventry University.
Simran is a passionate physiotherapist, who aims to provide effective treatment based on patient expectations and to improve their mobility and strength.
She is keen in all aspects of Musculoskeletal conditions and seeing her patients recover is what motivates her to work harder and grow as a Physiotherapist. She has a great interest in neurological patients including stroke, to help improve mobility and their overall quality of life.
Outside work, Simran is passionate towards dancing and enjoys spending quality time with family and friends.
Yashvi Sommanek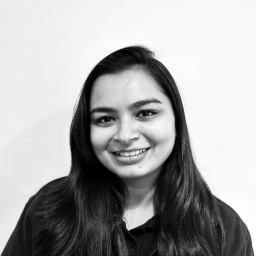 Yashvi graduated with a bachelor's degree in physiotherapy during which she gained experience in treating patients with various musculoskeletal and neurological conditions. Then to aid on her passion for physiotherapy, she pursued masters in advanced physiotherapy from Manchester Metropolitan University.
Yashvi is a highly motivated and passionate physiotherapist who aims at treating her patients with utmost care and patience. She is specialized in all aspects of musculoskeletal conditions and aims to achieve a high standard of delivering treatment by a combination of manual therapy, exercise and soft tissue manipulation.
When not at work, Yashvi loves cooking, travelling and spending some quality time with her friends and family.
Upinder Sangra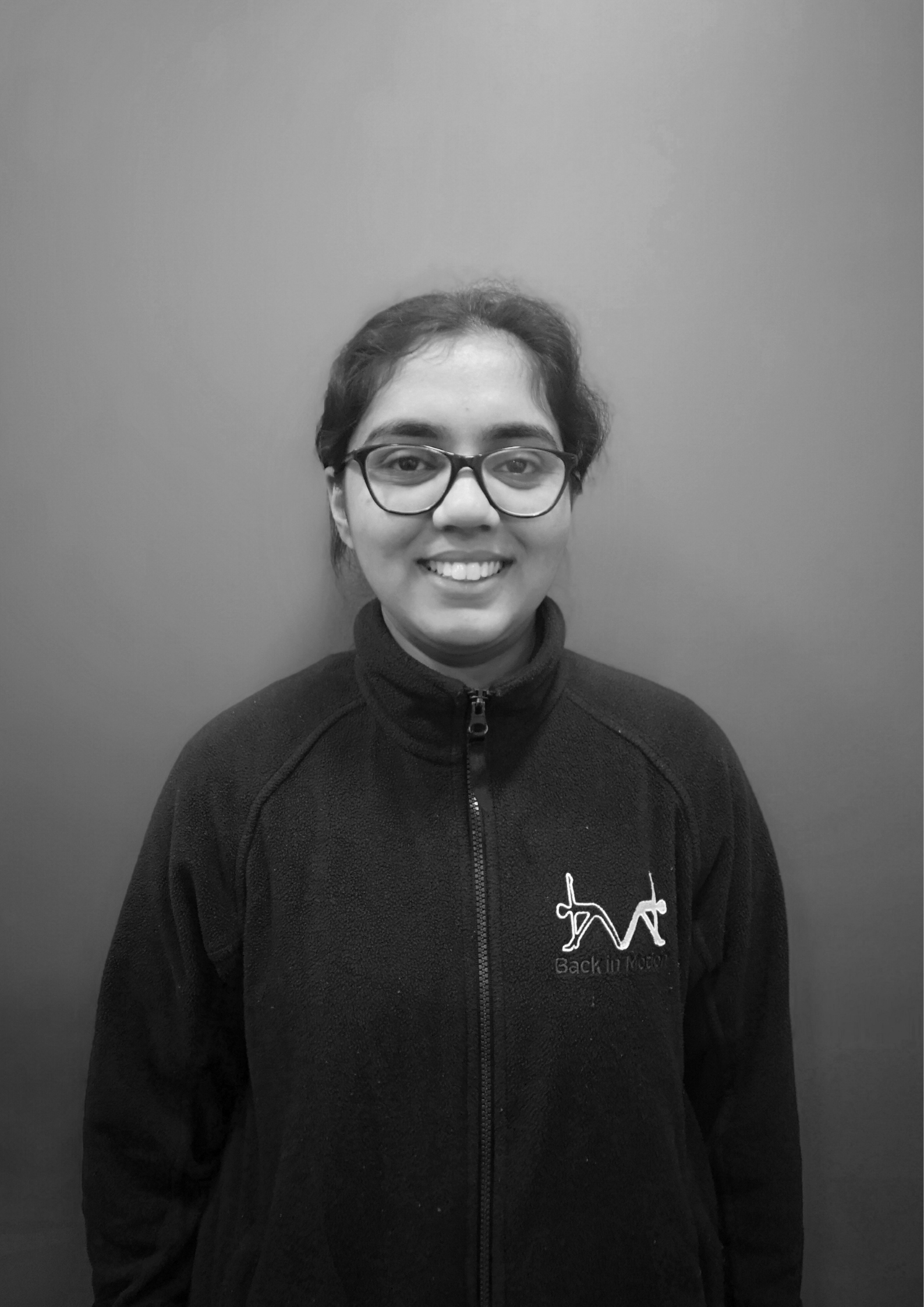 Upinder graduated with a degree in physiotherapy in 2020, where she treated patients with different kinds of musculoskeletal, Cardio-thoracic and neurological conditions during her postings. Then to aid some more knowledge she pursued her Masters in Advanced Physiotherapy from The University of Salford in 2022. She has also undertaken a yoga course during her bachelors degree and worked as a Yoga Instructor in India.
She is primarily interested in musculoskeletal injuries, particularly of the shoulder, and prefers to use the combination of manual therapy techniques and knowledge of biomechanics to aid people's recovery. Upinder always uses a holistic approach where she carefully assess the patient and offers a step by step and clear rehabilitation plan to the patient.
Ben Siddons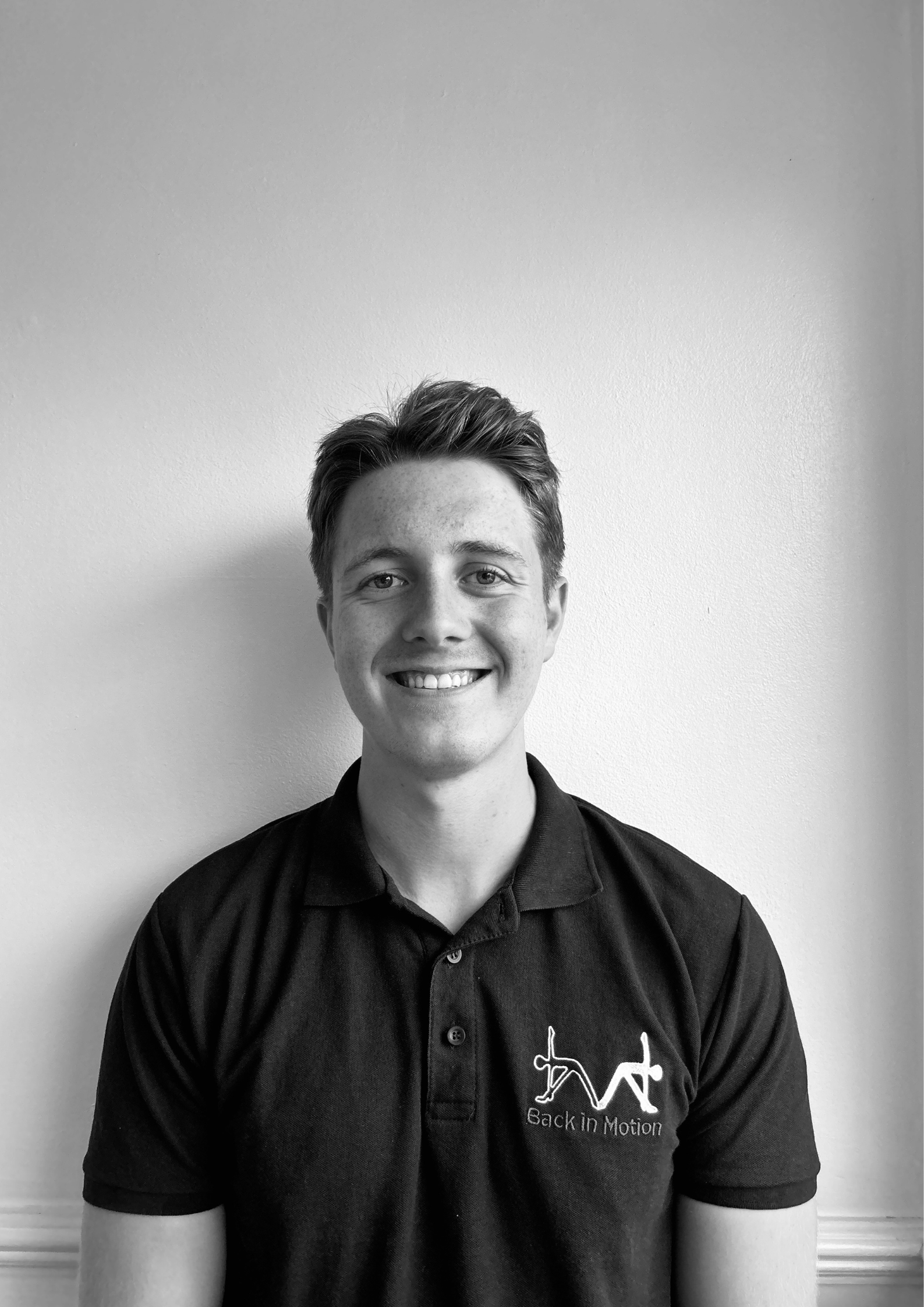 Ben completed his degree in Sports Therapy at the University of Hertfordshire in May 2023, and has joined the team as an administrator prior to taking up a position as a Sport and Rehabilitation Therapist.
Ben has previous clinical experience and has also worked within the first team at Lincoln City Football Club during the 2021/22 season as a Sports Therapist, giving him an insight into how rehabilitation works in an elite sporting environment.
Outside of work, Ben enjoys keeping physically active, travelling, and spending time with friends and family.
Priyal Vora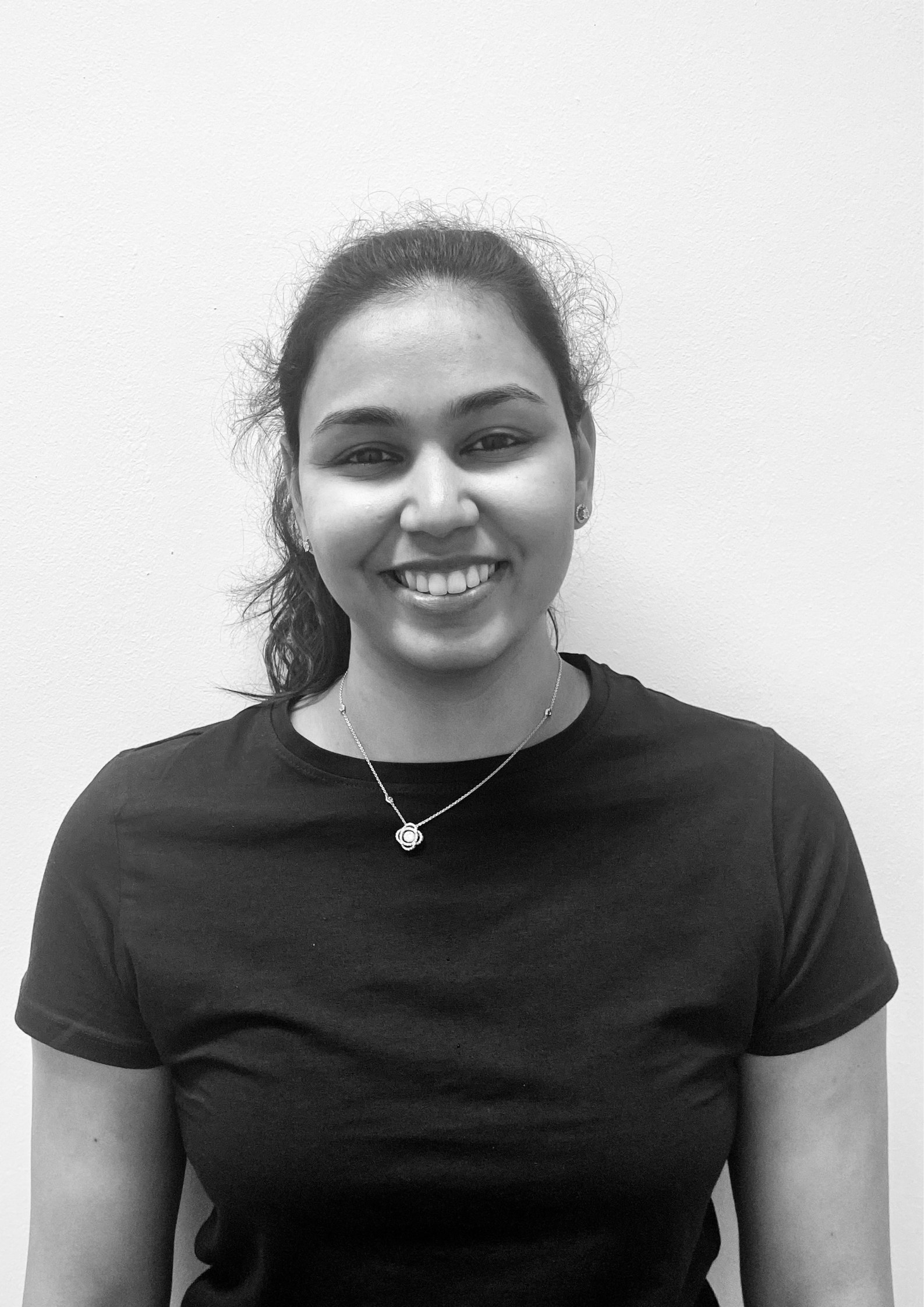 Priyal is originally from India where she completed her Bachelor's degree in Physiotherapy. Alongside her studies, she worked at a physiotherapy clinic where she gained insight on treating several MSK conditions. To develop her skills further, she moved to Cardiff to pursue her Master's degree where she chose to study MSK physiotherapy and clinical kinaesiology.
Priyal is committed to providing excellent care and improving quality of life by reducing pain and restoring function using her knowledge of biomechanics, manual therapy and exercise prescription. She is passionate about helping patients achieve their rehabilitation goals and will go the extra mile for them.
In her free time, Priyal enjoys exploring new places, watching movies and spending time with friends
Aishwarya Menon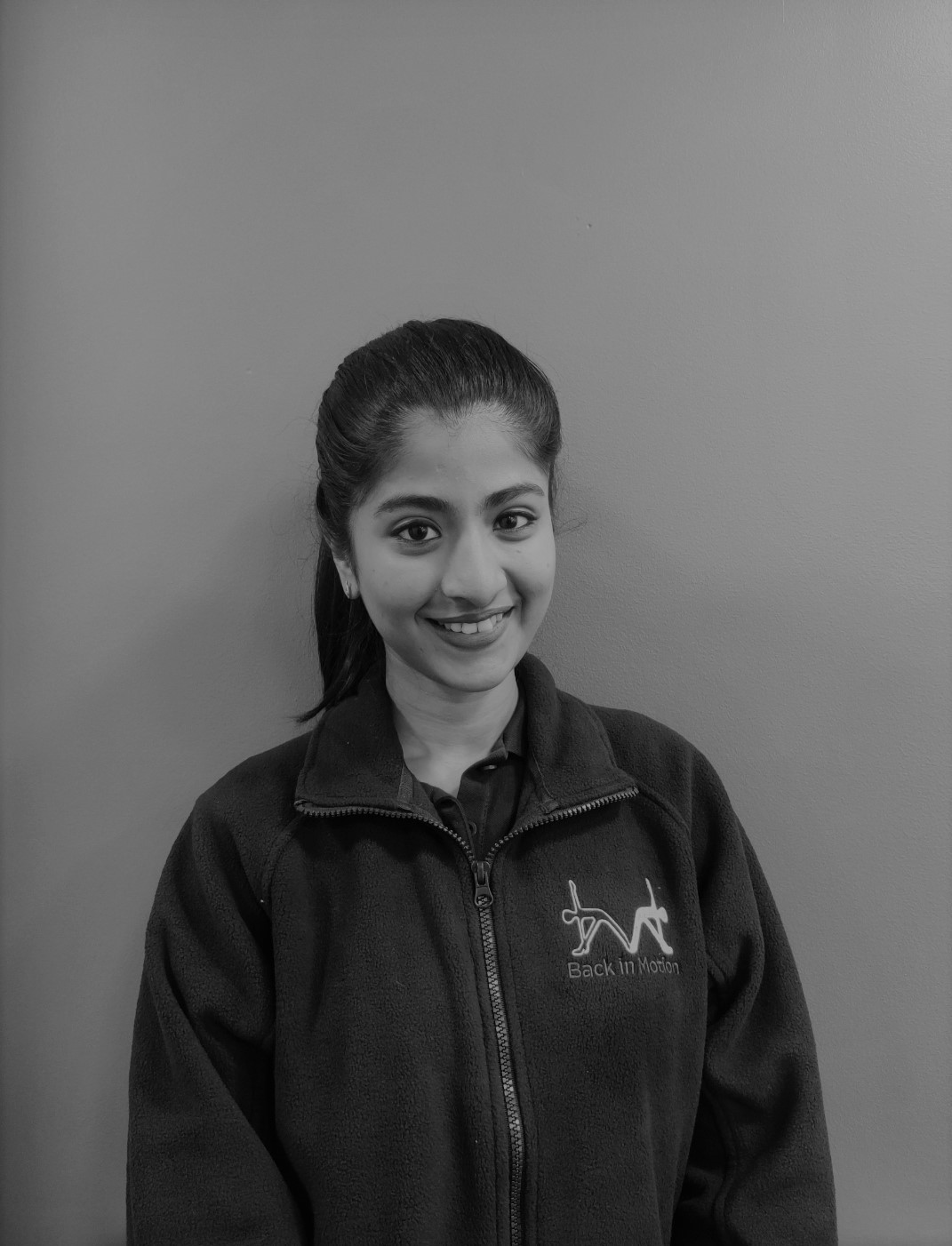 Aishwarya graduated from India in 2020, where she gained extensive experience in musculoskeletal, neurological, and neuro-paediatric conditions. To broaden her knowledge and develop new clinical skills, she relocated to the United Kingdom and earned a Master's degree in Advanced Physiotherapy from Manchester Metropolitan University.
She is a highly motivated and passionate physiotherapist who prefers to use manual therapy skills in conjunction with a good exercise prescription to help in their rehabilitation and recovery. She believes in using a holistic approach to provide high-quality care and improve her patient's quality of life.
In her spare time, Aishwarya enjoys dancing, travelling, and spending time with her friends and family.
Ailish Segon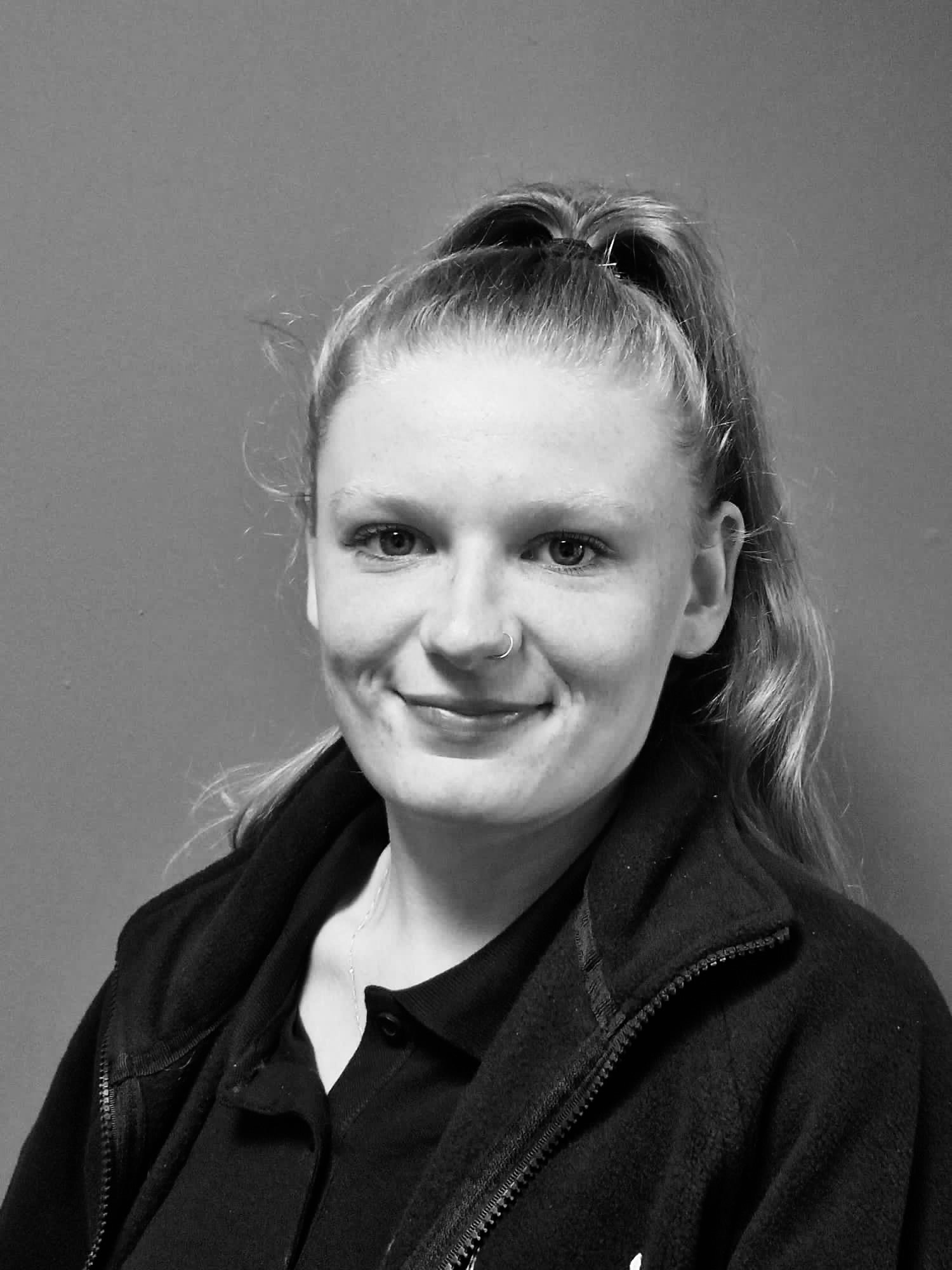 Ailish graduated from the University of Essex with a BSc Hons in Sports Therapy. Since graduating, she has worked clinically in semi-professional football with the ladies' first team at Needham Market. Having joined the Back in Motion Team, Ailish is really excited to work one-on-one with clients to improve their movement and overall quality of life.
Outside of work, Ailish enjoys spending quality time with her family and friends
Daniel Potter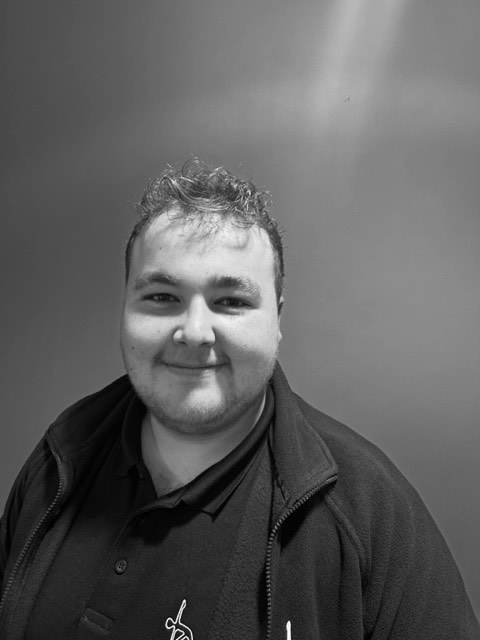 Dan is a fully qualified Level 4 Massage Therapist, completing his qualification at The Jackie Hamilton School of Massage Therapy.
Dan's favorite part of Massage therapy is getting to know the patients and guiding them through their journey to recovery. He has been involved with sports most of his life and is aware firsthand of the benefits that massage therapy has to offer.
Dan's main sporting passion is Rugby and outside of work he enjoys cooking, keeping active, and spending time with his friends and family
Administration
Marie Wilkinson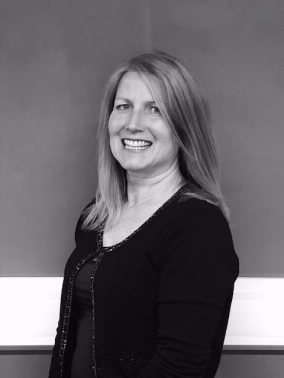 Marie joined Back in Motion in June 2019. She works as a receptionist and administrator for the North Norfolk clinics. She enjoys spending time with family and friends, walking her labradoodle Alfie and singing with Invidia Voices Rock & Soul Choir.
Scarlett Franklin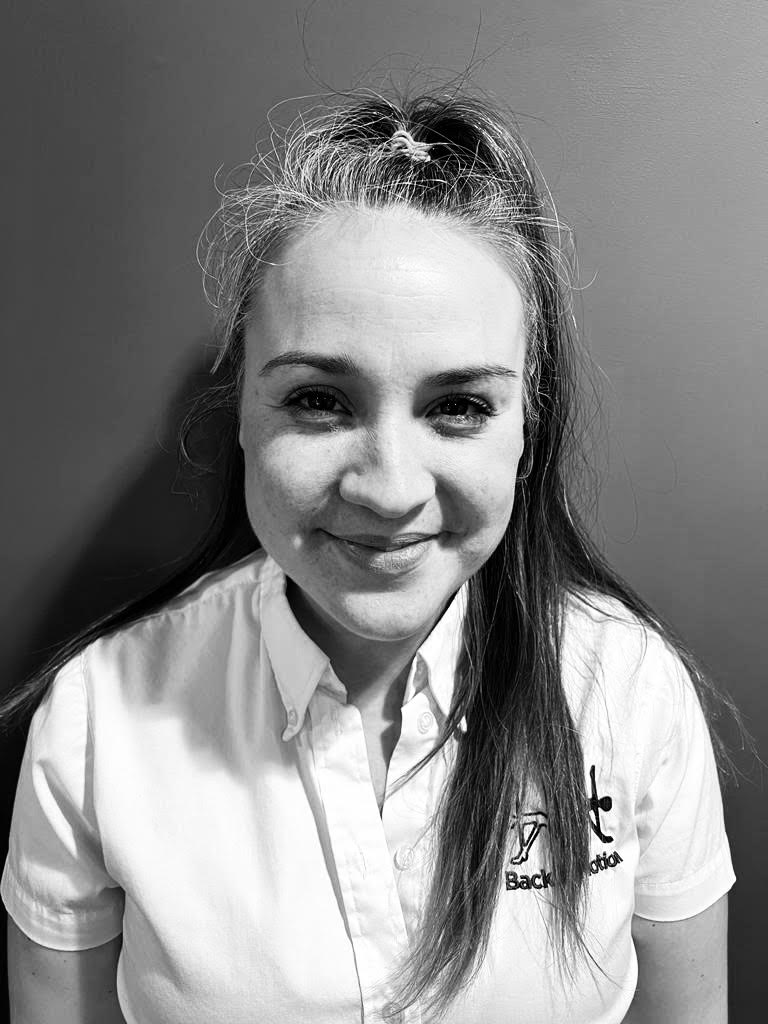 Scarlett qualified in 2009 from Champneys International Beauty College. Since then she has enjoyed working in 5 Star spas around the South of England. In 2013 she decided to relocate to North Norfolk to be closer to family and worked self employed before joining the team.
Scarlett enjoys having time with her family, walking her 2 dogs, reading and travelling.
Rebecca Cracknell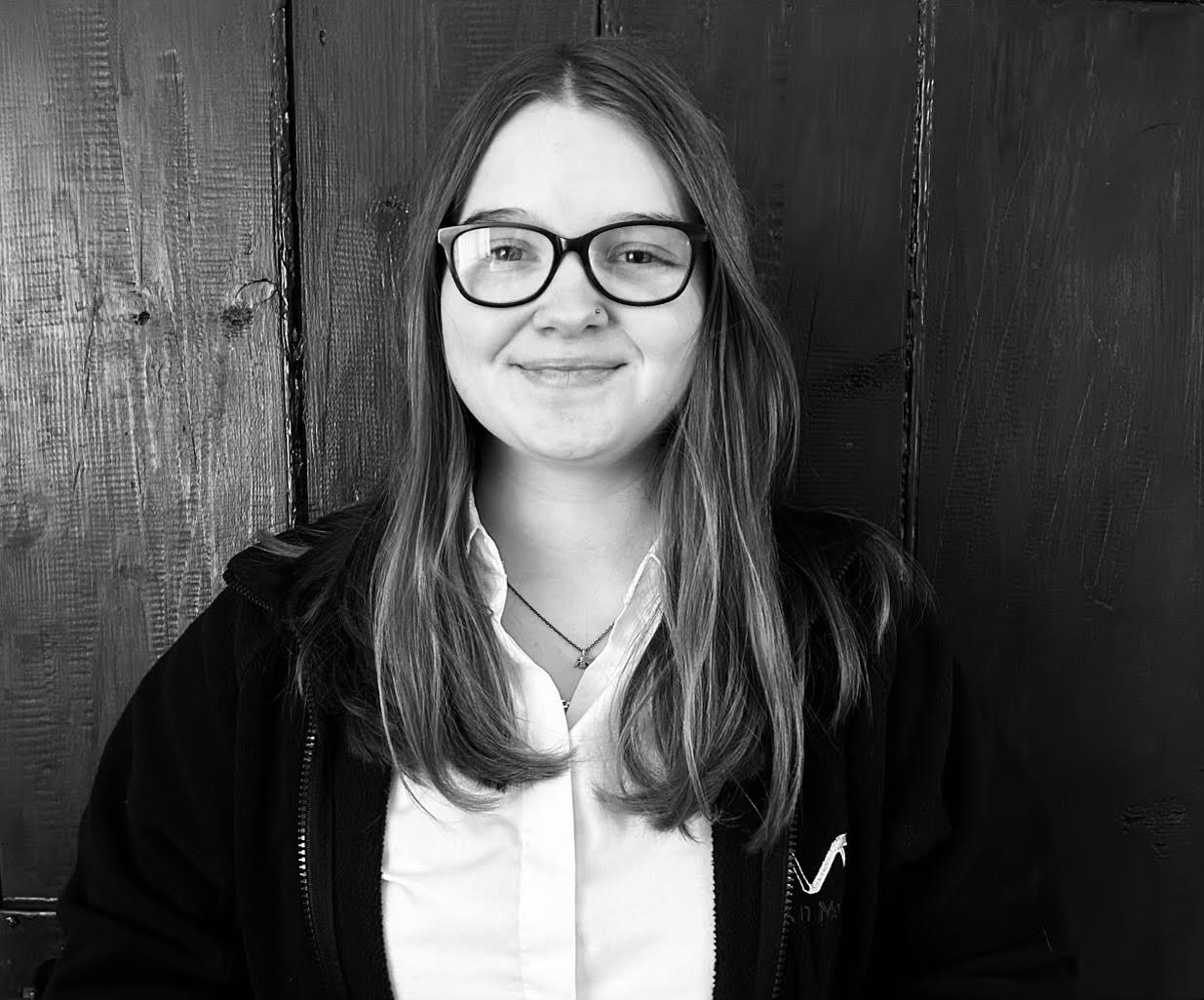 Rebecca joined Back in Motion in November 2022 after completing a level three diploma in Health and Social Care. She has previously worked as a waitress and barmaid, and her favourite part of working at Back in Motion is getting to know the patients. Outside of work, Rebecca has danced from the age of three, and has appeared in many dance shows at the Theatre Royal in Norwich. She also enjoys having cuddles with her dogs and taking them to the beach for ice cream!
Ann-Marie Medler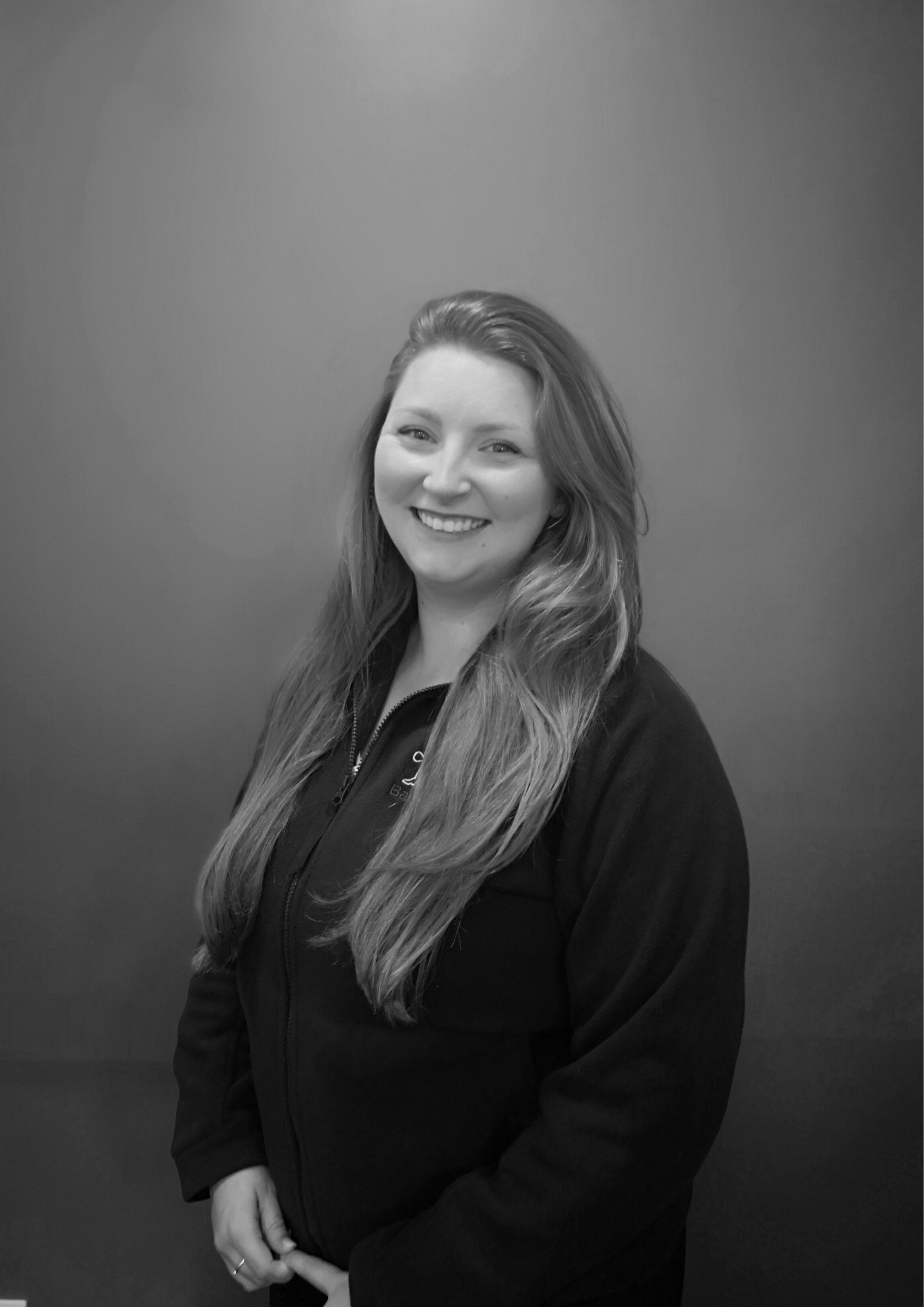 Ann-Marie started with Back in Motion in May 2023, as a part time Receptionist and Administrator for our South Norfolk clinics.
Having previously worked as Head of Business Services, Ann-Marie joins the team with a passion for customer care, as well as a broad understanding of Business Operations and Project Management.
In her spare time, she enjoys being with her family, watching movies and making earrings for her online handmade jewellery business.
Laura Savidge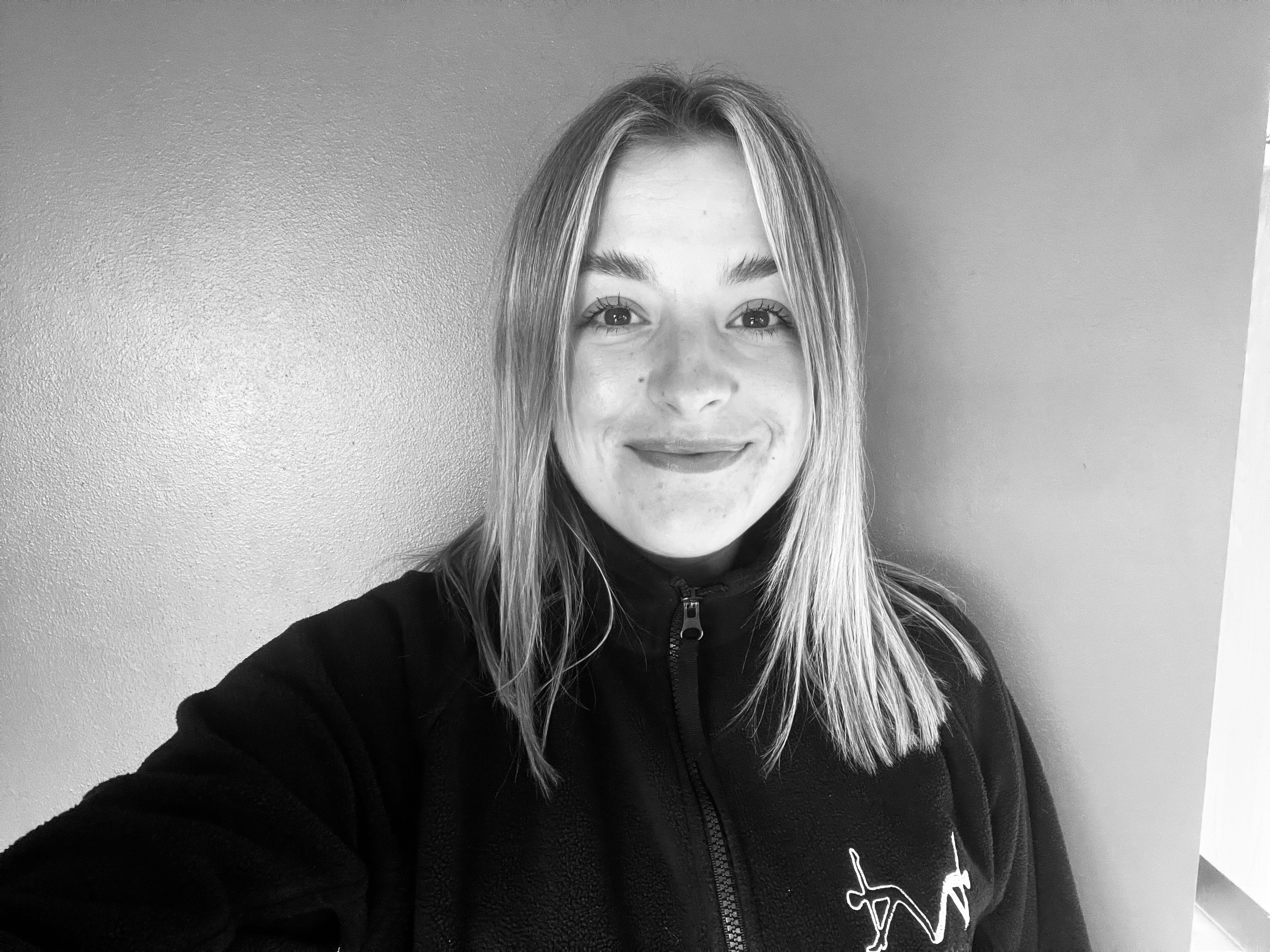 Laura passed college in 2013 with a level 2 beauty therapy diploma and then worked in retail until starting a family in 2018. She joined Back in Motion in November 2022 and enjoys getting to know the patients and watching their journey to recovery as they continue to visit. At home She enjoys decorating, gardening and spending time with her family and my two children.
Jade Moore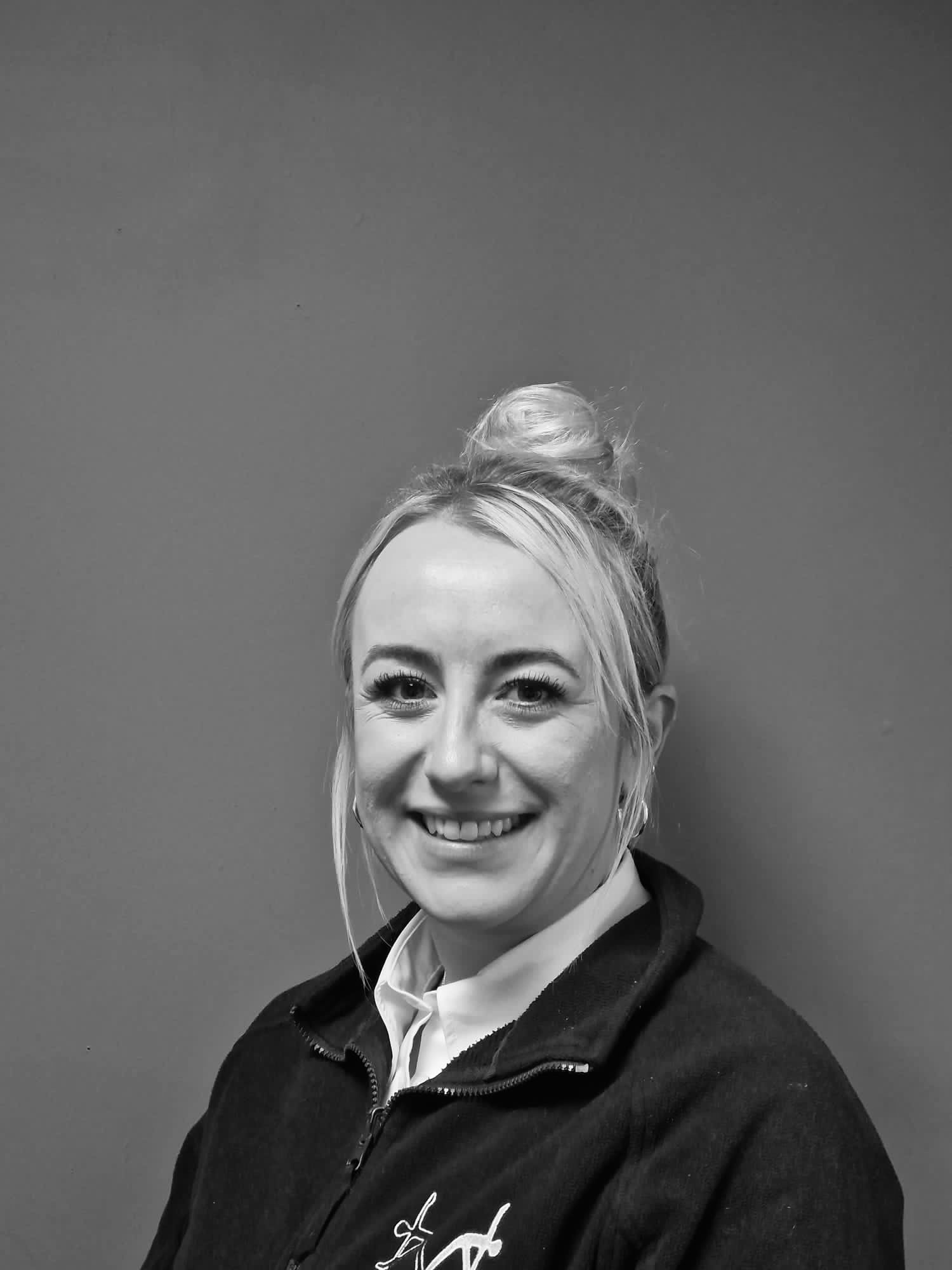 Jade started at Back in Motion in May 2023 as a part time receptionist and administrator for our North Norfolk clinics. She has previously worked as a carer for many years but felt it was time for a change and wanted to take on a new role. Jade really enjoys meeting all of the patients in clinic and seeing how much the team at Back in Motion can make a difference to their lives.
Outside of work Jade loves to spend time with her family & friends and enjoys going for walks along the beach.
Management Team
Clare Wilton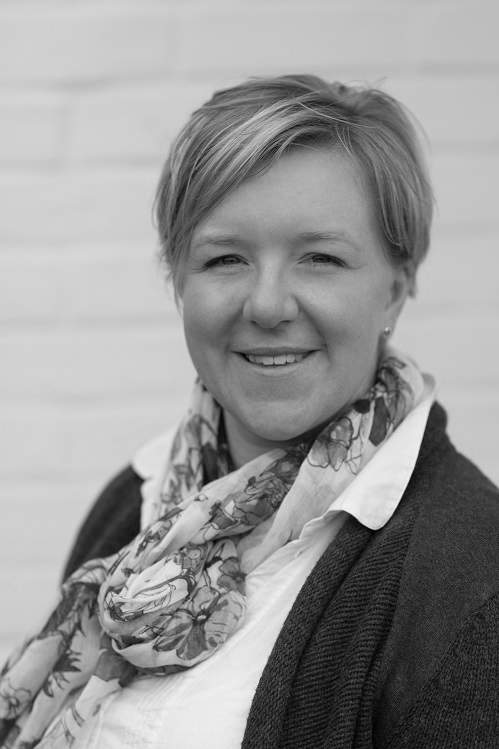 After qualifying in 1998, Clare worked at the Norfolk and Norwich hospital gaining a foundation of work experience. After 2 years she widened her horizons by working in another hospital, Kettering General and in a private sports physiotherapy practice in Northampton in the evenings to gain valuable experience and money to follow her dream of working abroad in New Zealand.
In 2001, Clare left the UK to travel for a few months across America, South Pacific Islands, Australia and onto New Zealand.
In New Zealand work undertaken was varied from private physiotherapy in busy Auckland and Wellington city practices. Clare worked alongside the lead physiotherapist for Super 12 Wellington Hurricanes who played international level Rugby across Australia and New Zealand giving her significant professional Rugby experience treating elite athletes. Clare also ran a busy orthopaedic physiotherapy service as a senior lead clinician for Wellington hospital, which was the specialist centre for the island, which rounded off her experience of working for both private and public sectors of health in New Zealand.
Clare returned to the UK in late 2003 with an increased passion for Physiotherapy and a vision for how exceptional Physiotherapy services are delivered. This ambition and desire to continue to travel led Clare to do one thing and that was to set up her own clinic Back in Motion.
Back in Motion now has 6 sites across Norfolk which are managed directly and through a franchise model. Clare still remains as 'hands on' as possible but primarily leads a team of therapists to deliver exceptional Physiotherapy.
Gemma Morris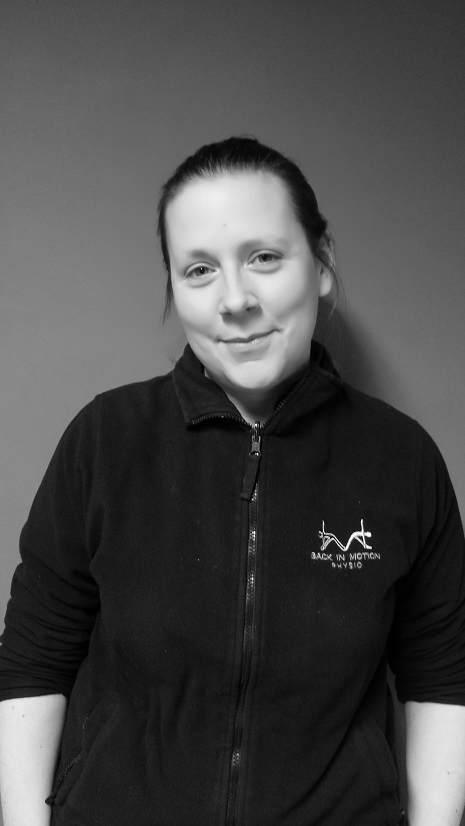 Gemma completed a BSc in medical sciences at Birmingham University followed by a Masters degree in Physiotherapy at The University of East Anglia. She worked for Back in Motion for almost 2 years before taking on a franchise of the business in 2009 and now runs several clinics in the Norwich & North Norfolk area.
Gemma is an experienced senior MSK Physiotherapist having qualified in Clinical Pilates and Acupuncture and uses these techniques in the treatment of patients and her classes. As a senior member of the team she is a specialist and teaches in specialities such as Headaches, Domiciliary care and Neurological conditions.
Trained in Performance Matrix, Gemma uses her knowledge of movement science to enhance her rehabilitation skills and help clients in injury prevention.
Gemma is busy running a business and managing a family and son but when time allows her second love is the stage and has taken roles in various performances at the Maddermarket theatre.
If you have any questions please get in touch by calling 01953 604 331 or emailing us on info@back-in-motion.co.uk
To begin your treatment plan, please call your nearest practice for bookings or further information.